When it comes to planning a vacation, choosing the right destination is key to having a memorable and enjoyable experience. For those looking for a perfect vacation spot that offers a perfect blend of outdoor activities, scenic beauty, relaxation, and top-notch amenities, Heron Lakes, Berthoud, CO, is the place to be.
Located near the TPC Colorado PGA Golf Course, Heron Lakes is a paradise on earth that promises to meet all your vacation needs. This blog post will explore why Heron Lakes is the perfect place to vacation.
Golfing
Are you crazy about golf? Well, if you haven't checked out Heron Lakes yet, you're missing out on a slice of heaven on earth! The TPC Colorado Golf Course is a world-renowned wonderland for every golf enthusiast. And if you're not one yet, get ready to be converted!
This course was designed by Arthur Schaupeter, and surrounded by stunning views of the Rocky Mountains. Not only do you get to enjoy the breathtaking scenery, but you'll also love the optimal playing conditions and unique designs. Trust us, Heron Lakes will give you an unforgettable golfing experience like no other. Get ready to show off your winning swing while soaking up the beautiful sights! Book a tee time here!
Outdoor Adventures
Get ready to channel your inner explorer because Heron Lakes is the ultimate destination for adventure enthusiasts. With an abundance of options to choose from, you'll never run out of things to do!
For the land-lovers, there are leisurely walking paths and hiking trails, and exhilarating mountain biking routes to explore. Plus, for those looking to climb to new heights, rock climbing opportunities await you. But wait, there's more! Don't forget the water sports that are just waiting to be enjoyed. Dive in and discover the thrilling world of water skiing, wakeboarding, and tubing. Whether you're a daring daredevil or a cautious newbie, Heron Lakes offers an unlimited range of outdoor activities that are designed for everyone.
Scenic Beauty
Admiring beautiful scenery topped with great weather is the ultimate source of relaxation. With its stunning views of the Rocky Mountains, Heron Lakes promises to take your breath away. Urbanize guests can sit and enjoy the view from the TPC Clubhouse while enjoying a nice meal and craft cocktails.
Luxury Accommodations
Heron Lakes vacation rentals near the TPC Colorado PGA Golf Course offer luxurious accommodations with all the necessary amenities. Choose one of three beautiful rental homes from Urbanize:
You will feel relaxed yet wowed by the high-end finishes and designer décor in this beautiful four-bedroom, four-bathroom spacious townhome. Upon entry, you are greeted by hardwood floors, beautiful modern décor, and an open-concept layout. Tasteful light fixtures and designer accents are sprinkled throughout Heron Hideaway at TPC Colorado, providing an elegant and welcoming feel.
This exquisite three-bedroom retreat will provide a private oasis of luxurious relaxation. Enjoy some quality time in the inviting living area, perfectly crafted for you to relax and catch up on your favorite shows while lounging comfortably.
You'll also find an additional entertainment area with another smart tv, an office desk set up for those corporate work visits, and an additional bedroom/bathroom quarters – making it ideal for larger groups or families who are looking for some extra space during their stay. This townhome provides a two-car garage space and its own electric charging station for your environmentally friendly vehicle.
Step into the height of luxury at the opulent Mountain View Townhome. Our luxurious two-story townhome has been designed with all members of your family in mind - from romantic couples to large parties traveling in style. Its own private entrance is graced with lush greenery and a secluded lounging area, creating an ambient atmosphere from the moment you arrive.
The generous open-plan layout boasts ample space for bridal parties, private events or simply winding down in style.
With similar locations, sizes, and amenities to meet your needs, each of these properties possesses its own unique style and beauty. Whether you want a family vacation, a romantic getaway, or a solo escape, the options are endless.
Each of these stunning properties is just minutes away from TPC's Clubhouse - accessible to the public, a community pickleball court, and MORE!
Local Favorites
Indulge in more than just nature walks and hiking at Heron Lakes! While Heron Lakes and TPC are located in Berthoud, CO, just a hop and a skip away lies Loveland, where you can quench your thirst for cold, frothy beers with their brewery experience. With 10 independently owned breweries, you'll have plenty to taste and explore.
Photo Credit: @akakitchen_loveland
Loveland is also a city bursting with art and culture. Venture through the various galleries to admire stunning art pieces, or head to the museums to learn about history and science. With so much to do and explore around Heron Lakes beyond just outdoor activities, you may need to stay longer than you planned!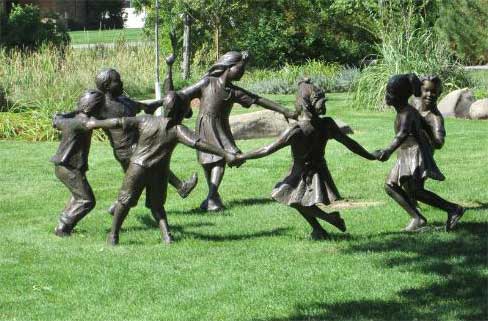 Photo Credit: https://loveland.org/
Heron Lakes, Berthoud, CO, is the perfect vacation destination for golf enthusiasts, outdoor enthusiasts, families, couples, and solo travelers. With its picturesque views, great weather, and unlimited fun activities, you're sure to fall in love with this Northern Colorado spot.
Book your Heron Lakes vacation rental at TPC today! Whether it be Heron's Hideaway, Harebell's Haven, or The Mountain View Townhome, experience firsthand why Heron Lakes is a destination like no other.